DJ Services
Digital Music Services®
Award Winning Professional
DJ Services

Take Your First Step Toward
A Stress Free Event!

Music is the life blood of our founder (Mike). He has always loved music and been involved with it in one way or another most of his life. From the biggest Radio Stations around the Acadiana area to the smallest parties. After doing a few Weddings they became his passion and he wanted to learn as much as he could about them. The road to becoming the Best DJ he could be for his clients wasn't an easy task. After years of training in various parts of the country, he can finally say he is a "Professional Master of Ceremonies". He has attended many National DJ Conventions in Las Vegas. He was asked to introduce a well known presenter to the audience. If you need someone who cares about your event as much as you do, you have found your DJ. We can provide you with a elegant Wedding DJ, a Fun Party DJ, or even mixing it up Club DJ style. With his years of planning and experience he's got most of the answers you need. The only questions that remains is… How can we help YOU have a FUN event! Give us a call at 337-261-0707.
To quickly check our availability or ask a question click HERE.  To get a price quote, click HERE.
Receptions
Ceremony
Emcee
Parties
Add On's
FAQ's
Venues
When you first think of hiring a wedding DJ, you're probably concentrating on the 'fun dancing' parts of the reception. While this part IS important, there are many decisions to be made. Many of them will effect the flow and stress of the reception. With your vision and our experience, we can create the perfect package for you. Our expert help and reception planning forms will make for a Fun and Stress Free reception!
---
Silver Package
Our Silver package is perfect for those that will have an event coordinator present during their reception. With our deluxe reception organizer, you can easily put everything in the exact order you want, without the fear of forgetting something. All of the essentials are listed, along with some other suggestions to make your reception "unique." Also included are song request forms and an online VIP area with additional resources to help you plan your big day.
---
Gold Package*
Our Gold package has everything our Silver package includes, plus some exciting additional items to make planning and enjoying your wedding even easier. This is our most popular package! In this package, we'll direct your reception and custom create an itinerary that will be sent in advance to all of your major vendors and your venue. We'll make sure everyone is ready and keep everything rolling smoothly. As a two person package, let us handle the details so you can feel relaxed, stress-free and enjoy your BIG DAY!
---
Platinum Package*
Our Platinum package has everything the Silver and Gold packages have, plus that "WOW factor" that so many couples are looking for in today's modern receptions. This package includes 12 accent / uplights, with over 32,000 color choices. These LED lights are battery operated, no wires, and sit on the floor to color the walls or columns. After your formal dances, we place them in a special mode, thus changing colors to the music, giving you the ultimate party atmosphere. Now, let us add your name or initials on the dance floor or wall. We custom make the image in our office and send you a proof ahead of time to make sure it's going to be perfect! Next, let's add some more dance floor lighting. Now the whole room is full of excitement. This is a two person package allowing us to make sure EVERYTHING goes smoothly!
All packages include:
Deluxe Reception Organizer

Dance Song Request Form

Online VIP Access

Planning Forms

Detailed Planning Meeting before your event!
* "Reception Directing" is our "Mini" Coordinating. We'll work with you in advance to create the perfect itinerary. After it's approved, we'll send an advanced copy to your major vendors. During your reception, we will control the timing of the events and make sure that everything flows smoothly. This service is only available as a part of our Gold and Platinum Packages.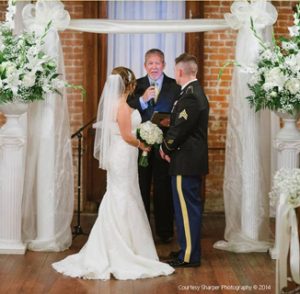 For months leading up to your wedding day, you will be making many decisions, including some about your ceremony. Which songs will be played for the background music and for your VIP's walking down the aisle? Will you have readings? Will the Groomsmen and Bridesmaids walk together? The list goes on and on.
If you are getting married outside of a church, we can coordinate your rehearsal, play the Ceremony music, provide wireless microphones, suggest the perfect wedding Officiant and offer helpful advice as you plan your 'Reserved Seating List' for your special guests. Having a professional ceremony DJ that really understands how ceremonies work can really ease your stress levels. We've done over 200 Ceremonies. Call us at 337-261-0707 and let's discuss your wedding.
"… For the ceremony, the music kept everything flowing smoothly, and Mike provided a wireless microphone that was very convenient for the officiant." – Courtney
"… The BEST decision I made for my wedding was hiring Digital Music Services. I only regret that I hadn't hired them sooner to help coordinate the ceremony and reception. I hadn't realized the significance of the DJs role in the timing and coordination of your event; it's Everything!" – Rikki
---
Ceremony Music Package
We would be responsible for playing back the music for your ceremony. We provide (1) wireless microphone on a stand for the officiant (readers, etc..) so everyone can hear what is being said. This package does not include the "Ceremony Rehearsal Coordinator" below. This package is limited to the music and microphone we provide. We can also upgrade this option to include things like: additional microphones, audio feed for video recordings, and musician's tie-in to our equipment. Let us know exactly what you need so we can quote it properly.
---
Ceremony Recording Services
This service is only available if you have added our "Ceremony Music Package" above to your reception package. For a nominal fee, we can record your Officiant and ceremony vows. After you return from your honeymoon, we'll have a one-of-a-kind audio CD created just for you to be able to treasure those moments forever. Perfect for anyone who doesn't have a Videographer for their ceremony.
---
Ceremony Coordinating Package*
Having a well-trained Coordinator for your Ceremony Rehearsal is a great idea, especially if you are not getting married in a church. We would meet at your venue or any other agreed upon location for the rehearsal one (1) or two (2) days prior to your ceremony. During this rehearsal, we would organize and teach everyone what their roles and responsibilities are for the ceremony. This generally takes about one (1) hour. We also help you with your reserved seating list. On your wedding day, we would begin to coordinate your ceremony starting one (1) hour before the ceremony begins.
Rehearsal Checklist

Reserved Seating Planner

On Location Walk Though*

Teaching Everyone Their Roles

Answering Any Questions
* If your ceremony location isn't available for the rehearsal walk through, we can do this at an alternate location. This happens sometimes and isn't a problem. Contact us for details.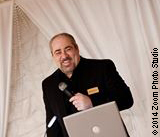 As your "Master of Ceremonies", Mike's extensive voice training and many years as an "On-Air" DJ for local radio stations including KTDY & KSMB are all working towards making your event fantastic! He has done numerous voice overs for production and broadcast use. To take his Emcee skills to the next level for your event, he has completed several nationally acclaimed workshops to become an even better "Master of Ceremonies".
Mike takes his speaking duties very seriously. Why? Because everything about our performance at your event is important. Introductions of your family members, friends, bridal parties, dignitaries, and VIP's … they're all important. Inflection, intonation and timing are just some of the traits of a good public speaker.
Everyone gets nervous when standing up and speaking to a room full of strangers. Now imagine being in front of a few hundred people!  It takes regular practice to overcome this natural tendency to be nervous. It's why so many people have trouble delivering a special toast at an event. Professional training and regular practice does make a difference.
If You Want To Have An Unforgettable Party, Call Us!
We've entertained for thousands and thousands of people all across Louisiana, especially in the Lafayette area, with our professional DJ services. Digital Music Services has provided music for gatherings as small as backyard parties to as large as the Cajun Dome Convention Center, where we have played for over 2,000 people at a time for some of the largest Mardi Gras Krewe's in Lafayette. No party is too large for our experienced staff!
We've entertained for many types of events:
| | | |
| --- | --- | --- |
| Company Parties | Fashion Shows | Mardi Gras Balls |
| Bridal Expos | Mardi Gras Parades | Graduations |
| Department Stores | Anniversaries | Birthday Parties |
| Outdoor Runs | Sweet 16's | Political Events |
| High School Dances | Karaoke Parties | Casinos, etc.. |
If you have an event that requires a great DJ that can play music from the 50's through today and deliver high quality music entertainment, give us a call. We would love to discuss the details!
Besides our pre-made packages, we also have our add-on menu that allows you the ability to create your own PERFECT package. By doing this, you get exactly what you want.
You can add these items at any time, provided they are still available on your date. Our bundled pricing (at sign up) is discounted below our normal prices. The more you add to your bundle when you sign up, the bigger the discount we will offer.
Remote DJ Speaker – This is a special speaker that allows us to provide the music and announcements to areas that aren't normally available because of distances or walls. This is a wireless setup and we do not need to run wires from the DJ area. This is perfect for any place you want people to hear important announcements and the music that would otherwise be missed. It has it's own volume control and can be set to play any level from background to full party mode.
Simple Dance Floor Lighting – Want to really get the party going? These lights are the new, bright, LED lights that are designed to light up the dance floor. This will encourage more people to dance because the overhead lights can be turned down. Having dimmer lights will make more people comfortable on the dance floor. We have examples here.
Deluxe Dance Floor Lighting – These lights are like you see in concerts and on TV. These beams of light move all around the room and project colored lights and patterns. They are very effective without being overwhelming. View our demo here.
1st Dance Slide Show – You supply the pictures and we'll create a monogram and slide show. We'll project your monogram until your first dance. We'll start the slide show for everyone to see during your 1st dance. We can play this on a wall, screen or a large TV.
Endless Slide Show – You supply the pictures and we'll create a endless slide show that will play for the entire reception. We can play this on a wall, screen or a large TV.
Bridal Party Grand Entrance Music Editing – Many couples get ideas from YouTube. One of the biggest ones that we see often is to have each couple/pair in the bridal party be introduced to their very own song. This requires a lot of music editing since nobody ever seems to want the slow / intro in the beginning of most songs. You would pick the songs and we'll take it from there. We'll also provide you with a copy of the finished edits on a CD, so everyone can practice before the big day!
Please Note: Each item listed above is offered as an independent service. Each has it's own fee depending on the exact details. We'll gladly provide prices on any item(s) upon request.
You Have Questions … We Have Answers!
Most Frequently Asked Questions:
How much do you charge? There are many things that will affect our prices. The same exact package in Lafayette, LA will be cheaper than the same package 200 miles away. Is a ceremony involved, will it be indoors or outdoors, will it be upstairs or downstairs, how many hours of playing time do you want and many other things all contribute to the final quote. This is why we prefer to speak with you so that we can get all of the details that matter in a short conversation without taking much of your time and giving you a firm price quote.
Am I hiring a company or a person? You're hiring a company (Digital Music Services®, L.L.C.), located in Lafayette, LA. This is our full-time job and we'll be there when you need us day or night. Our goal is to provide outstanding personalized DJ services to each of our clients.
How long has your company been in the DJ business? Digital Music Services® was established in 1996. DJ services were added in 2000. Mike (Owner) was on the Airwaves as a Disc Jockey for a number of local radio stations including: KNIR, KXKW, KTDY & KSMB.
How many (Weddings / Receptions / Parties / Etc.) has your company done? Many. If you select "Clients" at the top of the page, you can look through the list. We don't list individuals because we want to protect their privacy. So instead, we list the venue's we've been to. Feel free to call any of the venues listed and ask about us.
Do you list any references? Yes. See the previous answer.
You don't have our venue or place listed on your clients list. Is this a problem? Not at all. If we have any concerns about your selected location, we will either call or go to the location prior to your event date, at our own expense to check out the venue and go over the details. We don't want any surprises on your event day either!
Can your company handle my Wedding Ceremony also? Yes. We can go over these details and pricing when we give you a price quote. We are often asked to quote prices for handling a Ceremony and Reception. There are certain things that are important for any DJ service (including us) to know, so we can give you an accurate quote. If you supply us with information that is inaccurate, incorrect or incomplete, you shouldn't be surprised when you get some additional charges. To avoid this scenario… Please read the following information carefully and call us at 337-261-0707 with any questions you may have. The internet and email are a wonderful thing, but sometimes it takes longer and more effort than a simple phone call.
Do you charge more to handle my Ceremony? No, as long as the Ceremony is added to your scheduled 4 hour event and the Ceremony takes place in the same exact "area" as your Reception. Notice I said "area", not some other place on the same property or venue. We would only be using (1) sound system and nothing else out of the ordinary would be required as if we were just doing the Reception.
Does the price change if I want my Ceremony in one area and my Reception in a different area, but still on the same property or at the same venue? Yes. This means we need to set up two sound systems. One to handle the Ceremony and the second system to handle the Reception, because once the Ceremony is over, there isn't any time to tear down the first system and re-set up for the reception before your guests arrive. So you would need to include in your request for a quote.. Ceremony (Front Lawn) or where ever it is and Reception (Rear Lawn). These Front and Rear lawns were only examples, but it would let us know we'll need two systems.
Can you handle my Ceremony if it's at one location and my Reception is at another location? Yes… Just let us know the details so we can quote it correctly. As an example… Your Ceremony could be at Acadian Village Chapel and the Reception is at River Oaks. This would let me know that I not only need two sound systems, but also 2 people to handle this kind of event. As the guests leave the Ceremony area, that person stays behind and puts away the equipment. The second person is already at the Reception location waiting for your guests to arrive.
Is there anything else that can affect my quote for my Ceremony and Reception? Yes.. What about ceremony seating music as your guest are arriving? That could add half an hour to your event time. What about microphones for the bride & groom or live singers? lights? etc.. The best advice I can give you is to call us at 337-261-0707 and go over all the details. That way you'll know what you want and need and then everyone giving you a quote will be on the same page and avoid unexpected charges later on.
Do you have a "primary" DJ? Yes. Although we have several DJ's available, Mike (Owner) is our primary DJ.
Does the company book more than one event for the same day? Yes. Our quality services are in such demand that we have expanded to meet our clients expectations. This allows us to handle multiple events and clients on same day without sacrificing our commitment or quality.
Is it possible to request a certain DMS DJ? Yes, if you have selected our Gold or Platinum package. Silver package DJ's are selected by DMS. After looking over all the details of your event, decide which of our qualified DJs is the best match and make the assignments.
Can your DJ "Emcee" our event? Yes. We can handle all the basic announcements needed for your event and expanded announcements for our premium package members.
Are there additional cost for this service? No. All of our packages offer standard Emcee services.
Does your DJs take "breaks"? No.
Do you charge extra for mileage & travel? Not if your event's location is within a 30 mile radius of Lafayette. Most of our competitors charge each time they cross a parish line. We will only charge an extra fee, if your event location is outside the 25 mile radius, and the amount is clearly stated separately in our quote as "travel expense".
We want you to setup upstairs, is there an extra fee? Possibly, but it depends on how much hand carrying we have to do. Just let us know, you want us "upstairs" and if the building has a working elevator or not so that we can quote it correctly. Please note that our speakers will always remain at same level as the guests are located.
How long are your price quotes valid? If you were given a quote that is older than 30 days and you haven't requested a contract, you should confirm those prices again when you contact us. We may have been running a special discount at the time you requested a quote or perhaps due to market fluctuations, we may have had to adjust our prices. My best advice is once you get a quote from us, follow through within 30 days. (Bridal Show specials are not affected by this policy).
What type of equipment do you use? We use Professional Grade Equipment, meant to be used day after day. Our equipment is also maintained by our own in-house technician. Some of the brand names in our inventory are Behringer, Mackie, Gemini, Peavey, JBL, American Audio, DBX, Shure, Audio-Technica, Alesis, Odyssey, Marathon & SKB.
Are your music selections on CD's? No. Our primary music system is a laptop computer. We backup devices as part of our regular equipment that would be already setup and tested before your event started.
Does your DJ take "Request"? Yes. We believe that requests are a great way to get a "sense" of what kind of music the crowd might like, and besides who wouldn't like to hear their favorite song? Occasionally, someone will request a song that isn't appropriate. When this happens, we try to offer an alternative selection.
Do you have a music inventory list I can look at? Yes, but only as a client. Clients are given access to a private "VIP Client Only" area of our website. This area has our forms, planners, helpful links and our Search-able Music Library Database. If you would like to see the VIP area before signing up, just call us to make an appointment. We have a computer setup in our office, so you can view the area before signing up.
Why can't I see a list before I become a client? Our music library has over 50,000 songs. If we were able to fit 100 songs per page, it would be over 1,600 pages for you to look through. Currently, we're adding over 100 songs per month to the collection (we subscribe to monthly CD releases, with all the new music). With these kinds of numbers, we would constantly be printing out the list. By the way, in case you never really thought about it, you couldn't possibly play more than 100 songs in a 4 hour event. How's that you wonder? Here's the math… older songs are generally less than 3:00, newer songs are generally 3:30 or longer. If we average this out and use 3 minutes as our common number, that's 20 songs per hour X 4 hours = 80 songs.
Can we supply a list of a "few" songs we want played? Yes. Once the list is received, we'll look over it and let you know if we see any potential problems. We reserve the right to decline any request we feel would be inappropriate for the type of event involved, regardless of who requested it.
If I don't want certain songs or types of music played, is this a problem? Not at all. Our forms allow you to tell us what is "Allowed" and "Not Allowed" to be played at your event.
Would you agree to play "only" the songs on my supplied list? No. This is called a "playlist". We would not agree to DJ an event with such a restrictive list. We love "requests list" and encourage all of our clients to supply us with some of the their favorite songs.
If I want to use a certain song, but would need it altered / edited, can you do that? Yes. Studio editing to any of the four formal dances are included in our packages. Sorry but phone and email editing are too time consuming to be included in our packages. We can still provide this service, but you will be billed for the time needed to complete all the editing requested.
I want to give away custom CD's as gifts, can you make them for our event? This practice is illegal whether you sell the CD's or you give them away. In either case, you must pay for the "mechanical" rights to "legally" make those copies. The legalities involved with obtaining these rights are beyond the scope of a DJ company. There is a legal process that enables us to make a custom "master" CD(s) for you. What you do with your master CD, would be your business.
I'm a perfectionist, can I approve each song that will be played? No. We work with each client to get what We're entertainers, and spontaneity is a part of the fun at a event. Our advise is to carefully select your professionals (DJ, Photographer, Cake, Florist, etc) and then let us do what you hired us to do.
A friend has offered to DJ our reception/event as a gift, should we accept? Most of these people mean well, but what they are really trying to do is put themselves in the spotlight, instead of keeping it on the Bride and Groom or Honoree. Do you really think they will know what to say, what to play and do it all at the right time? Will they have all the latest radio edited hits? Will you still be friends if they mess up such an important day? Personally, I wouldn't trust anything this important to anyone that wasn't a real professional and I don't think you should either! Tip: Tell them "Thanks, but we really want you to have fun with us on our special day".
Can you also supply club style dance floor lighting? Yes. Let us know you want to add our "lighting package" to your quote. Our lights bounce to the beat of the music and change colors and patterns as the light beams move around the room. Be sure to book these early… they go quick! Very popular for teen and school parties. Is it possible to have a few Karaoke songs at our event?
Yes, we offer up to 10 karaoke songs during your event without any additional charges*. If you want more than ten, we would need to get some idea of how many you might want so we could quote the event properly.
*Singer(s) would use the DJ's microphone and laptop screen to see the lyrics. Musical selections are limited** to Sound Choice SC7500 Series and other songs we have on our laptop (about 3000 songs).
**You can provide any special CDG disk's before the event, so that your songs could be added to our laptop and that way your special songs could be part of the ten free offered. No karaoke machine is available for the free version of this offer. Doing Karaoke on laptop is a wonderful thing… no disk to skip and perfect graphics!
What if we want just Karaoke at our event? If you just want karaoke songs, we can also offer you a full blown KJ Only Package. This package can have up to two singers with two microphones at a time and they would have a separate video monitor for them to see the lyrics and sing to. This is the normal karaoke package that you would normally see in bars and clubs. Our complete karaoke collection of about 100,000 songs is available, including all the latest and greatest songs. The only DJ music in this package is the most common line dance songs. We also offer a Karaoke Rental package. See our rental page for more details.
How many people will be with the DJ for my event? For small events, usually just the DJ. For larger events we will send whatever the required number of people to get the job done. We would not allow anyone that isn't affiliated with our company to be there. For example, some DJ services would allow a "potential" client to go on a job with them. We feel this is inappropriate. We want our concentration to be on your event.
Do you require a deposit to reserve my event date? Yes. We require a deposit with the return of a completed contract. Non-Profit agencies, corporations and clients that use our services often are sometimes excluded from this requirement.
When would the remaining balance be due for my event? Individual Client – Balances are due 30 days prior to the starting time and date of the event. Corporate Client – Balances are due 14 days prior to the starting time and date of the event. Client's may also choose to pay it earlier or in installments (not less than $50.00 per payment), if that makes things more convenient.
Our company requires an invoice, can you supply one? Yes. Just let us know when you return your signed contract to us that you need one.
Our company requires an IRS W-9 form, can you supply one? Yes. Just let us know when you return your signed contract to us that you need one.
Once signed, can the contract be modified? Yes. Let's say you needed to start and end 30 minutes later. Just send us an email to confirm the move, so we have it in writing. Generally, this would not be a problem or change our quote. If there are major changes, we could always re-quote the event and write up a new contract.
Can the quoted price change? Yes. Our pricing was based on the information you gave us. As long as your event doesn't change, neither will our pricing. Minor changes won't affect prices, but major changes will affect the final pricing. Any changes in pricing would have to be approved by you, at the time the changes are requested. Example: We were originally hired to handle your reception and now you would also like us to handle your ceremony.
If I reschedule my event, will I loose my deposit? If you're changing your event to a new date, as a courtesy we would allow your deposit to be re-used on a one time basis as a goodwill gesture to your new date. Providing it is within 1 year of the original date and we are available on the new date. However, if your event date is moved a second time, you will lose the deposit and have to start over.
If I cancel my event, will my deposit be returned? No. Deposits are non-refundable, as stated in the contract.
This is most of the venues that we have been to either as a DJ, a Photo Booth, or both. Often we can help guide a client based on our past experience at so many venues over the span of our career. Sometimes a client could use some help finding a venue. We've added a convenient search bar so you can narrow down your searches when looking for the perfect venue. Please note: All cities are in Louisiana. Let us know if we can help!
| Venue Name | Event Type | City |
| --- | --- | --- |
| AA Comeaux Youth Center | Wedding Receptions | Abbeville |
| Abacus | Wedding Ceremonies & Receptions | Lafayette |
| Academy Of The Sacred Heart | School Dance | Grand Coteau |
| Acadian Village (Chapel) | Wedding Ceremonies | Lafayette |
| Acadian Village (Ferdinand Stutes) | Wedding Receptions & Parties | Lafayette |
| Acadian Village (Pavilion) | Wedding Receptions & Parties | Lafayette |
| Acadiana Center For The Arts | Wedding Ceremonies & Receptions & Fashion Shows | Lafayette |
| Acadiana Mall | KADN American Idol Event | Lafayette |
| Ace Hotel | Wedding Ceremonies & Receptions | New Orleans |
| Agave Mexican Grill | Parties & Karaoke | Lafayette |
| American Legion Hall | Parties | Kaplan |
| Antique Rose Ville | Wedding Ceremonies & Receptions | New Iberia |
| Atchafalaya Club | Wedding Receptions | Henderson |
| Audubon Zoo (Cajun Ballroom) | Wedding Ceremonies & Receptions | New Orleans |
| Ballroom | Wedding Receptions | Crowley |
| Beauregard-Keyes House & Garden | Wedding Ceremonies & Receptions | New Orleans |
| Benedict's Plantation | Wedding Ceremonies & Receptions | Mandeville |
| Black's Restaurant | Wedding Receptions & Parties | Abbeville |
| Bourbon Orleans (St. Ann Cottage) | Wedding Ceremonies & Receptions | New Orleans |
| Bourbon Vieux | Parties | New Orleans |
| Breaux Bridge Veterans Home | Parties | Breaux Bridge |
| Brick House | Wedding Ceremonies & Receptions | Lake Charles |
| Buck & Johnny's | Christmas Parties | Breaux Bridge |
| Cade Community Center | Wedding Ceremonies & Receptions | Cade |
| Cafe Lola | Parties | Lafayette |
| Cajun Dome Ballrooms | Wedding Receptions & Parties | Lafayette |
| Cajun Dome Convention Center | Mardi Gras Balls & Bridal Shows | Lafayette |
| Cajun Palms Club House | Wedding Receptions | Breaux Bridge |
| Calcasieu Marine Bank | Wedding Receptions | Lake Charles |
| Caldwell House | Wedding Ceremonies & Receptions | Abbeville |
| Carencro Community Center | Wedding Ceremonies & Receptions | Carencro |
| Carl F. Grant Civic Center | Wedding Receptions | Plaquemine |
| Carriage House | Outdoor Ceremonies Only | Lafayette |
| Central Catholic High School | School Dances | Morgan City |
| Chateau Bourbon Hotel | Parties | New Orleans |
| Chateau LeMoyne | Wedding Receptions | New Orleans |
| Church Point Community Center | Wedding Receptions | Church Point |
| Circa Event Center | Wedding Ceremony & Reception | New Roads |
| City Club of New Iberia | Wedding Ceremonies & Reception & Parties | New Iberia |
| City Club (1100 Room) | Wedding Receptions & Parties | Lafayette |
| City Club (Evangeline) | Wedding Receptions & Parties | Lafayette |
| City Club (Fleur De Lis Ballroom) | Wedding Ceremonies & Receptions & Parties | Lafayette |
| Civic Center Ballroom | Wedding Receptions | Rayne |
| Crawfish Town USA | Wedding Receptions | Breaux Bridge |
| Cypress Grove Wedding Venue | Wedding Ceremonies & Receptions | Eunice |
| Delcambre Shrimp Festival Building | Wedding Ceremonies & Receptions | Delcambre |
| Dillard's Department Store | In Store Promotions | Lafayette |
| Double Tree by Hilton | Wedding Receptions & Parties | Lafayette |
| Elm's Mansion & Gardens | Wedding Ceremonies & Receptions | New Orleans |
| Equine Event Center of Louisiana | Parties | Opelousas |
| Erath Community Center | Wedding Ceremonies & Receptions | Erath |
| Esprit de Coeur | Wedding Ceremonies & Receptions | Lafayette |
| Evangeline Shrine Club | Wedding Receptions & Parties | Lafayette |
| Fairfax House | Wedding Ceremonies & Receptions | Franklin |
| Federal Ballroom | Wedding Receptions | New Orleans |
| Forest Restaurant | Wedding Receptions | Franklin |
| French House (ULL Campus) | Parties | Lafayette |
| Gouguenhiem | Wedding Receptions & Parties | New Iberia |
| Grand Coteau Ballroom | Wedding Ceremonies & Receptions | Grand Coteau |
| Grand Opera House of the South | Wedding Ceremonies & Receptions | Crowley |
| Grouse Room | Parties | Lafayette |
| Gueydan Civic Center | Wedding Receptions | Gueydan |
| Hall | Wedding Ceremonies & Receptions & Parties | Lafayette |
| Hanson Memorial High School | School Dances | Franklin |
| Hathaway High School | High School Dances | Hathaway |
| Hemingbough | Wedding Ceremonies & Receptions | St. Francisville |
| Henderson Recreational Center | Engagement Party | Henderson |
| Heymann Center (Stage) | Dance Recitals | Lafayette |
| Heymann Center (Ballrooms) | Mardi Gras Balls & School Dances | Lafayette |
| Hilton Garden Inn | Parties | Lafayette |
| Holiday Inn | Wedding Receptions | Opelousas |
| Hotel Mazurin | Wedding Ceremonies & Receptions | New Orleans |
| I'monelli's Restaurant | Parties | Lafayette |
| Indian Hills Country Club | Wedding Receptions | Opelousas |
| J. C. Speyrer Center | Wedding Receptions | Basile |
| Joey's Restaurant | Wedding Ceremonies & Receptions & Parties | Lafayette |
| Keith's Ballroom | Wedding Ceremonies & Receptions & Parties | Broussard |
| KC (Knights Of Columbus) Hall | Wedding Receptions | Crowley |
| KC (Knights Of Columbus) Hall | Wedding Receptions | Jennings |
| KC (Knights Of Columbus) Hall | Wedding Receptions | Kaplan |
| KC (Knights Of Columbus) Hall | Wedding Receptions | Lafayette |
| KC (Knights Of Columbus) Hall | Wedding Receptions | Scott |
| KC (Knights Of Columbus) Hall | Wedding Receptions | Youngsville |
| L'Eglise | Wedding Ceremonies & Receptions | Abbeville |
| La Louisiane Banquet Hall | Wedding Ceremonies & Receptions | New Iberia |
| Lafayette Event Ctr. (Crowne Room) | Wedding Receptions & Parties | Lafayette |
| Lafayette High School | High School Dances | Lafayette |
| Lafayette Jaycee Hall | Birthday Party | Lafayette |
| Lake Charles Country Club | Wedding Receptions | Lake Charles |
| Lake Fausse Point Conference Center | Wedding Receptions | St. Martinville |
| Lake House Restaurant | Wedding Ceremonies & Receptions | Mandeville |
| Lamp Post | Wedding Receptions | Franklin |
| Latrobe's On Royal | Wedding Receptions | New Orleans |
| Le Barn Rouge | Wedding Ceremonies & Receptions | Lafayette |
| Le Pavillon | Wedding Ceremonies & Receptions & Parties | Lafayette |
| Le Reve Receptions Hall | Wedding Receptions | Kaplan |
| Le Triomphe | Wedding Receptions & Parties | Broussard |
| Leesville Fair Grounds Auditorium | Wedding Receptions | Leesville |
| Lod Cook Center | Wedding Receptions | Baton Rouge |
| Long River Lodge | Wedding Ceremonies & Receptions | Melville |
| Louisiana Cajun Mansion B&B | Wedding Ceremonies & Receptions | Youngsville |
| Madison Banquet & Reception Centre | Wedding Ceremonies & Receptions | Broussard |
| Magdalen Place | Wedding Ceremonies & Receptions | Abbeville |
| Maison D'Memoire | Wedding Receptions | Rayne |
| Maison De Bon Temps | Wedding Receptions & Parties | Lafayette |
| Maison De Tours | Wedding Receptions | St. Martinville |
| Maison Montegut | Wedding Ceremonies & Receptions | New Orleans |
| Mamou Teen Center | Parties | Mamou |
| Manor | Wedding Ceremonies & Receptions | Cade |
| Marriott on Canal St. | Parties | New Orleans |
| Marsh House | Wedding Ceremonies & Receptions & Parties | Avery Island |
| Mazen Grill | Parties | Lafayette |
| Mervine Kahn (The Crossing) | Wedding Ceremonies & Receptions | Rayne |
| Milton Civic Center | Wedding Receptions | Milton |
| Nash's Restaurant | Wedding Receptions | Broussard |
| Northside Civic Center | Wedding Receptions | Ville Platte |
| Nottoway Plantation | Wedding Ceremonies & Receptions | White Castle |
| Oakbourne Country Club | Receptions | Lafayette |
| Opelousas Civic Center | Wedding Ceremonies & Receptions | Opelousas |
| Our Lady Of Wisdom Church Hall | Wedding Receptions | Lafayette |
| Ovey Comeaux High School | School Dances | Lafayette |
| Palmetto's On The Bayou | Wedding Ceremonies & Receptions & Parties | Slidell |
| Pat's Downtown | Parties | Lafayette |
| Petroleum Club (Grill) | Wedding Receptions & Parties | Lafayette |
| Petroleum Club Petroleum Club (Pecan) | Wedding Receptions & Parties | Lafayette |
| Petroleum Club (Walnut) | Wedding Receptions & Parties | Lafayette |
| Petroleum Club (Ballroom) | Wedding Ceremonies & Receptions & Parties | Lafayette |
| Poche Bridge Country Club | Wedding Ceremonies & Receptions | Breaux Bridge |
| Point-Aux-Loups Springs Ballroom | Wedding Ceremonies & Receptions | Iota |
| Ramada (formerly Holidome) | Mardi Gras Balls & Parties | Lafayette |
| Rayne Civic Center | Wedding Receptions | Rayne |
| Rip Van Winkle Gardens | Wedding Ceremonies & Receptions | New Iberia |
| River Oaks (Camellia) | Wedding Ceremonies & Receptions & Parties | Lafayette |
| River Oaks (Le Pavilion) | Wedding Ceremonies & Receptions & Parties | Lafayette |
| River Oaks (Napoleon) | Wedding Ceremonies & Receptions & Parties | Lafayette |
| River Oaks (Tuscany/Oak) | Wedding Ceremonies & Receptions & Parties | Lafayette |
| River Oaks (Vermilion) | Wedding Ceremonies & Receptions & Parties | Lafayette |
| Riverfront Restaurant | Wedding Receptions & Parties | Abbeville |
| Sacred Heart | High School Dances | Ville Platte |
| Scott Events Center | Wedding Receptions & Parties | Scott |
| Scott Lion's Club | Wedding Receptions & Parties | Scott |
| St. Ann Church Hall | Wedding Receptions | Lawtell |
| St. Michael's Center | Alumni School Dance | Leesville |
| St. Theresa Family Center Hall | Wedding Receptions | Abbeville |
| St. Thomas More Social Hall | Wedding Receptions | Eunice |
| Stone Oak Farms | Wedding Ceremonies & Receptions | Opelousas |
| Sugar Mill Pond | Walks & Fund Raisers | Youngsville |
| Sunny Meade B & B | Wedding Ceremonies & Receptions | Scott |
| Tim & Tia's | Parties | Lafayette |
| Toby's Reception Center | Wedding Receptions | Opelousas |
| True Friends Hall | Wedding Receptions | Breaux Bridge |
| Tsunami Restaurant | Parties | Lafayette |
| ULL Alumni Center | Wedding Ceremonies & Receptions | Lafayette |
| ULL Student Union (Atchafalaya Ballroom) | Wedding Receptions | Lafayette |
| Unity Christian Academy | Wedding Receptions | Scott |
| V Reception Halls, LLC | Wedding Reception | Lafayette |
| Vermilionville (Chapel) | Wedding Ceremonies | Lafayette |
| Vermilionville (Dining Room) | Wedding Receptions & Parties | Lafayette |
| Vermilionville (Performance Center) | Wedding Ceremonies & Receptions & Parties | Lafayette |
| Veterans Memorial Building | Wedding Receptions | New Iberia |
| VFW Hall | Wedding Receptions | Duson |
| VFW Hall #4396 | Family Reunion | Philadelphia |
| VFW Hall #6720 | Parties | Crowley |
| Victorian | Wedding Ceremonies & Receptions | Broussard |
| Warehouse | Wedding Ceremonies & Receptions | Rayne |
| White Magnolia | Wedding Ceremonies & Receptions | Kentwood |
| Wolff Hall | Wedding Ceremonies & Receptions | Washington |
| Woodlawn Chapel | Wedding Ceremonies & Receptions | Maurice |
| Woodmen Of The World Hall #241 | Parties | Carencro |
| Woodmen Of The World Hall | Wedding Receptions | Maurice |
| Woodmen Of The World Hall | Wedding Receptions | New Iberia |
| Wyndham Garden Hotel | Wedding Receptions | Lafayette |
| Xclusive Events, LLC | Wedding Reception | Sunset |