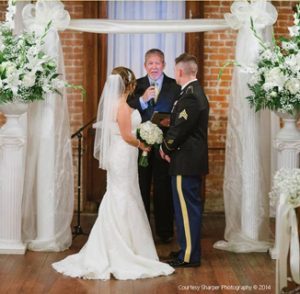 So you're getting married and planning a Ceremony!
Did you know you will have as many ceremony decisions as you will reception decisions? Many people are surprised when I share this with them. At first, they think I'm joking, but then they realize I am quite serious.
Let's discuss a few of the "not so obvious" things that come up. Did you know you would need a reserve seating list and assign seats at the ceremony for the first few rows? If there are any divorces in the family on either side, this can become tricky. What about Ushers? Most people don't understand that Usher's are there to take stress away and help get your guests where they need to go. Why would you not want their help? Over and over I hear brides-to-be say … "We have a small wedding, we really don't need Ushers". Give me 5 minutes and I promise you, I will convince you otherwise. There are many music selections to be made. Will there be readings and if so, by whom. This list really does go on and on and does catch most couples by surprise.
My advice is to not sell yourself short, have someone with plenty of experience to help you plan and execute your civil ceremony.
Photo by: Cory James Photography