Woodlawn Chapel Wedding for Lacie and Eric
Woodlawn Chapel Wedding for Lacie and Eric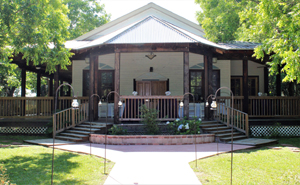 Lacie and Eric hired Digital Music Services to provide Ceremony DJ, Reception DJ and Coordinate their reception. They found this cozy venue nestled in the country near Maurice, LA called Woodlawn Chapel . I'm told the building is over 100 years old and offers several places to have a ceremony on the property. They even offer the option to get married inside and use the traditional church style pews.
Lacie originally wanted to have her ceremony in the back of the property near the pond, but "Mother Nature" had a different idea. The weather forecast was terrible all week, but on her wedding day, it seemed to be clearing up. Then it got overcast and started raining again. Lacie wasn't giving up so easily and decided to move the ceremony to the area just behind the outdoor deck. Things cleared up and then it started drizzling again. By this time, she was ready to "brave the rain" and get hitched! The Officiant was okay with the light rain and the announcement was made. Everyone headed outside so the ceremony could begin.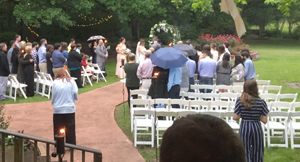 As you can see from this picture, there they are… Eric and Lacie getting married with a few brave guests and family joining them with their umbrellas. They were determined to get married outside and were not going to let a little drizzle bother them one bit. I was so impressed with their determination to get married outside, even though they could have selected the porch. Speaking of the porch, that's where most of the guests decided to hang out as they witnessed the ceremony.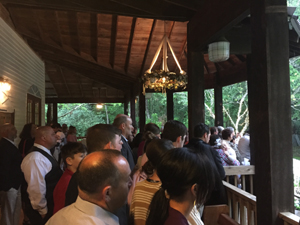 After the ceremony, everyone headed inside. The bar and buffet line were opened right away for the guests and since Bon Temps Grill provided the catering, you know the food was great!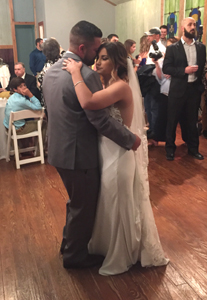 First Dance
So here's the newlyweds enjoying their first dance as husband and wife to "Tangled Up In You by Aaron Lewis".
Once we completed all of the formal dances, it was a full on PARTY! The dancing never stopped and this reception was nothing short of a BLAST! As a DJ you work hard to make sure the VIP's and guests are all having a great time. We had so many people dancing there were times they didn't have much room to dance. I must say the highlight of the evening for me was watching Eric, Lacie and their friends show off their dance moves. Let there be no doubt about it… Eric can DANCE!!!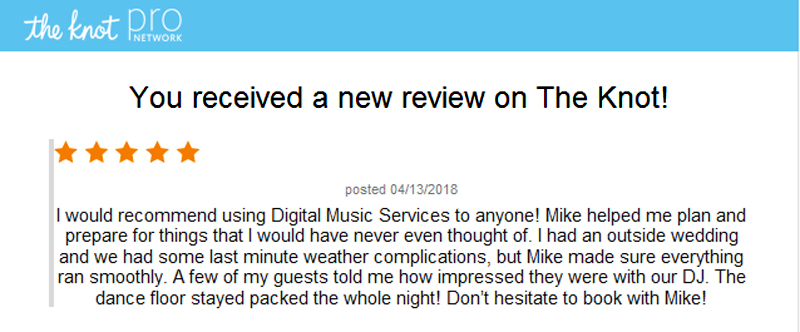 Thanks Lacie and Eric!