Lighting
 Lighting Summary
We have so many lighting options available, we had to break them up and put them on their own pages.
Click on the links below to go to that page and learn more or use the drop down menu under "Lighting".
Accent Lighting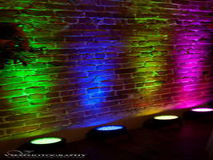 These are Par 64 units and brighter than most other companies offer. They are L.E.D. and stay cool to the touch, so nobody will hurt themselves. They are battery operated, without any ugly cords running across the floor. We place them along walls, columns, doorways or behind cakes to create some stunning lighting effects. We offer these units in packages of 4, 12, 16 and 24.
Click For More
Dance Floor Lighting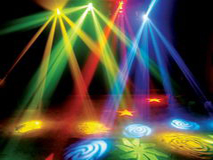 We offer 3 different dance floor lighting options. From simple to full club mode, we have what your looking for to enhance your PARTY!!!
Click For More